Whether it's the blue of a fancy Curacao cocktail, the print of a fine china, or the latest Tesla—blue is truly the color of 2020! Often we see blue hues emerge mostly during the summer with ocean colors breaking out in textiles and gorgeous silks reminiscent of ocean waves. However, now it's truly becoming a year-round color trend for all venues. Many of our developers are even adding this color to kitchen islands and statement bathrooms.
Blue has made its mark; not just in 2020, but as a statement that will likely last the decade. Since we don't see it going away anytime soon, we've invested in textured velvets and decorative décor to keep our properties in vogue. While Pantone calls it "Classic Blue", we are seeing shades of royal, aqua and navy in everything from cottons to cookware.
From our real estate perspective expect the latest trend when they walk in the door, here are the 3 simple staging tips to add this 2020 vision to your timeless home:
Brighten Bedrooms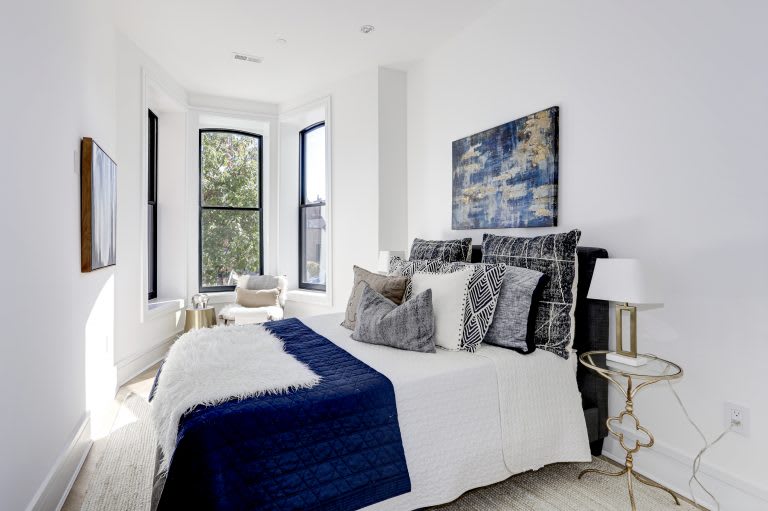 Bedrooms are the easiest to be updated, but with this on-point trend don't be afraid to sprinkle in blue textures from other materials such as denim and damask fabrics. You can take a simple white comforter and add layers of printed blues as if it were patterned China. Here in our bedroom set at 5608 Devon Road, we used their own light blue comforter and simply added richer and bolder blue layers as if it were Royal Copenhagen art. Another example is at 1712 15th Street NW, where we used a simple navy blanket with pillows purchased from HomeGoods.
Lighten Your Living Rooms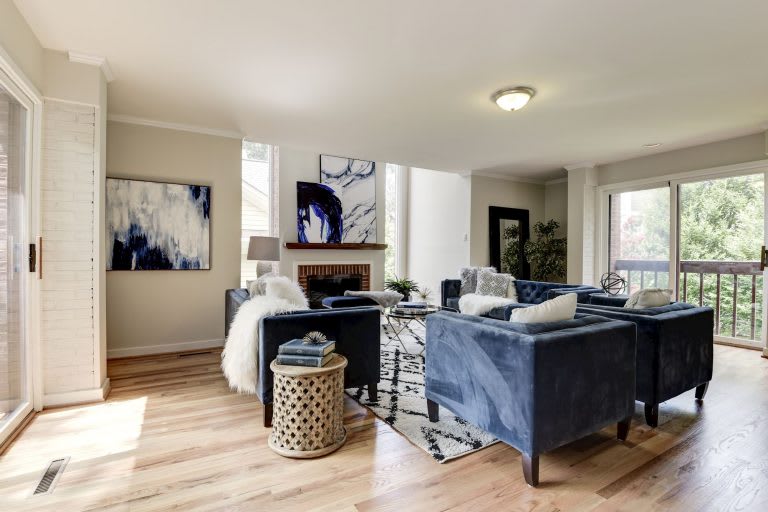 Blue sure feels like the new black this season as we see soft velvets replacing leather. Instead of going for a dark black or brown leather sofa, try using a shade of blue in your living room. Blue works well with a variety of other colors, check out our fresh look that we used for the living room at 2404 Chain Bridge Road. For here, we used statement blue furniture pieces mixed with black and white. The same suite was used at 524 Jefferson Street NW to freshen up our new construction property by mixing black metals and gray walls. Also, the blue sofa is a softer and newer "timeless" accent compared to the older aged leathers.
Exterior Made Easy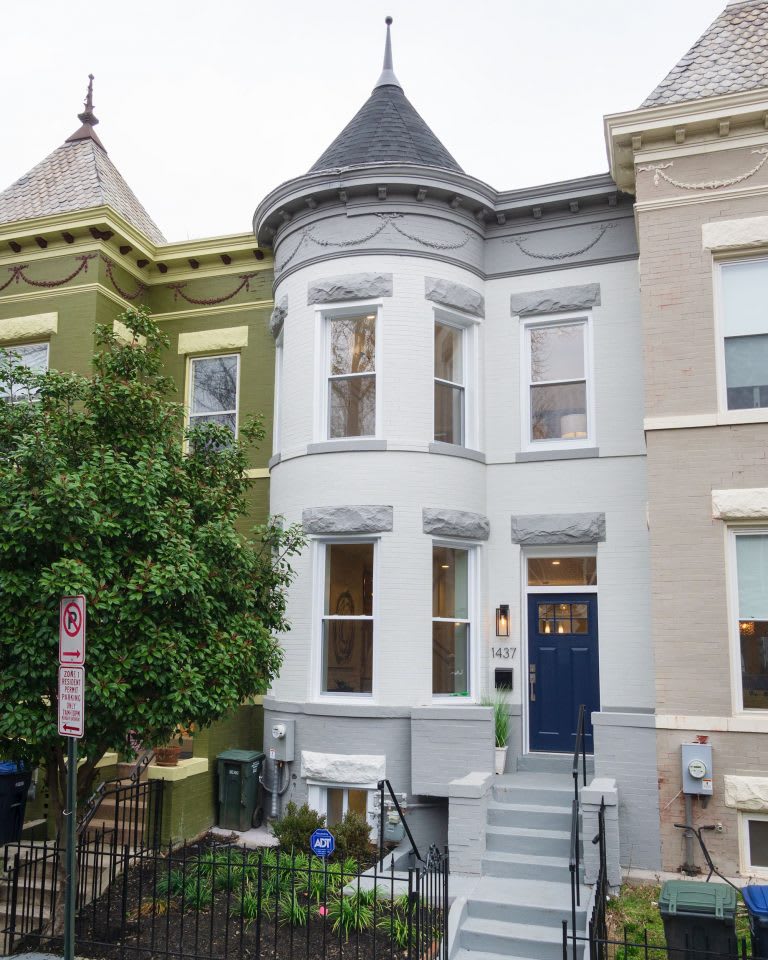 Need to freshen up your outdoor space? Add pops of blue in pillows or carpets, found at stores like Target or World Market. Go even bolder with your exterior by updating your white, gray or beige siding with a bright blue door, as seen here from the developer at 2903 Jennings Road. A simple coat of paint on your front door can refresh any façade. Another example is at 1437 Monroe St. NW—the simple painted brick gives it a brand-new look that'll last the decade.